Procurement and project delivery stage
00
Procurement and Project Delivery includes:
Opportunity assessment
Market analysis
Stakeholder mapping
Facilitation / connecting buyers and suppliers
Capacity building for Māori & Pasifika owned businesses
Performance management and reviews
Estimating and measuring impacts throughout the project life-cycle
Procurement Circle of Trust
The Height approach is about improving performance across the whole contract cycle. Ultimately successful delivery is a partnership between buyer and supplier, which is why we call this the "Circle of Trust."
From promise to high performance
Delivering a successful project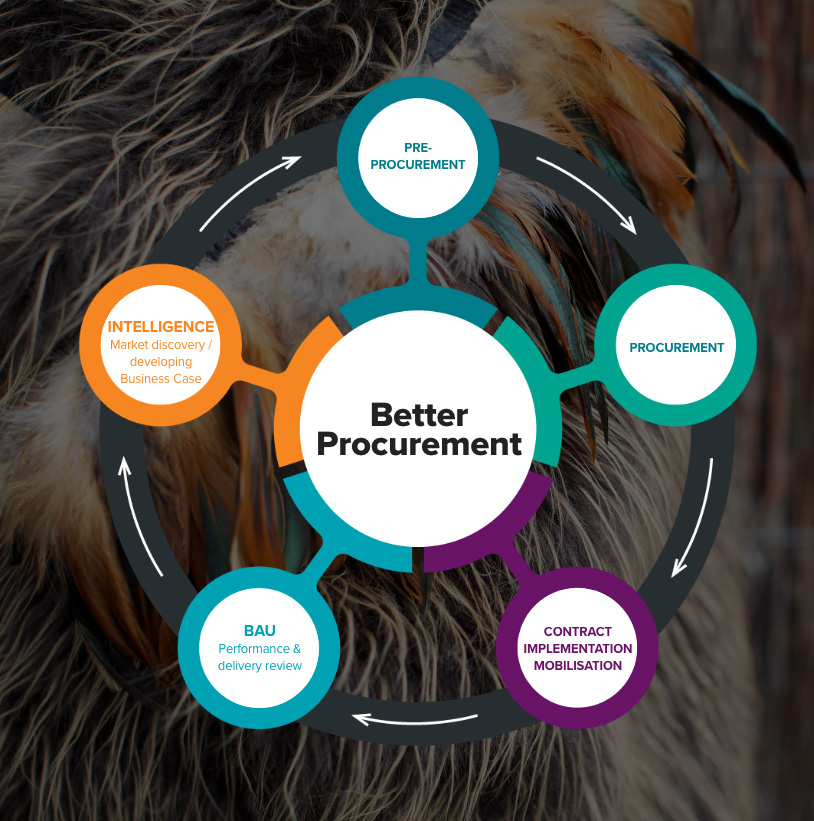 Planning to succeed stage

00

Planning to succeed

Why should this project take place? How will you deliver a significant return on investment and results that make a real difference beyond business? Where do you start?
 

Keeping your procurement approach in line with best practice
Up-to-date with the latest e-procurement, government priorities, and social and sustainable outcomes, our team helps you reassess, retarget or reinvent your procurement approach, quickly and effectively. We develop compelling business cases, procurement strategies, Requests for Proposals and contracts so you not only generate the best outcomes for the buyer—but also the environment, economy and society.

From promise to high performance stage

00

From promise to high performance

Winning the work is only the start. Delivering a major contract successfully takes a seamless transition from sign-off to set-up—often with a tight timeframe and limited resources. 

Mobilising for success
With experience in mobilising complex projects efficiently, we help you develop collaborative working relationships with your customer and teams, on-board your people and de-risk your project so you exceed expectations.

 

Delivering a successful project stage

00

Delivering a successful project

How can you build strong customer relationships that maximise your opportunities for high-margin work?

Providing you with the tools to exceed expectations
We partner with your team through project delivery and beyond, so you can delight your customer and improve performance without compromising on day-to-day service. Our customised support includes establishing clear business strategies and processes, translating goals into everyday actions, innovating technical and delivery processes, and much more.

 
Get in contact
Let's work together to create your procurement and project strategy.