Strategic bid management includes:
Defining the bid win strategy
Construction staging and technical methodology
Bid writing design and packaging
Commercial review and risk assessment
Pricing strategies
Bid reviews
Coaching for presentations
Contract transition and interim management
Bid Management Circle of Trust
The Height approach is about improving performance across the whole contract cycle. Ultimately, successful delivery is a partnership between buyer and supplier - what we call the "Circle of Trust".
Pre-positioning your business
Crafting a compelling bid
From promise to high performance
Delivering a successful project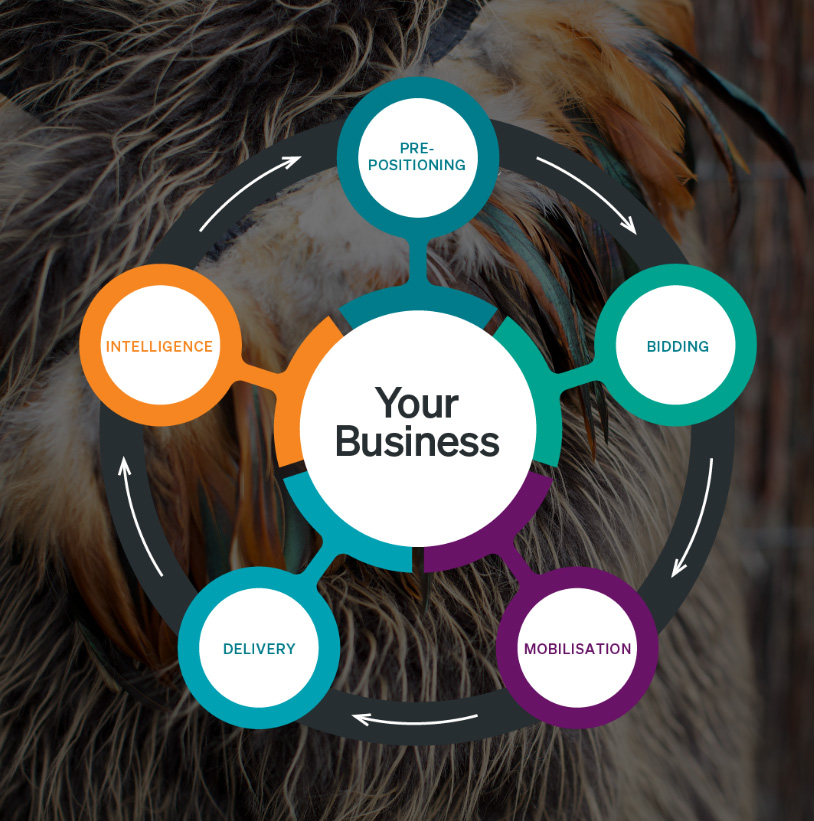 Gathering intelligence stage

00

Gathering intelligence

What does your competitive and sector landscape look like? What sets you apart? Why should you win?

Analysis and insights to define your win strategy
We undertake detailed analysis of the industry's emerging trends and shifts and your business strengths. Using key insights and our team's deep expertise, we work with you to define an innovative solution and compelling strategy to win you the work.

Pre-positioning your business stage

00

Pre-positioning your business

How can you win work before it comes to market? How can you create opportunities for negotiated work and unsolicited proposals?

Building relationships and understanding
Pre-positioning your business with a potential client is just as important as a well-written, compliant and compelling bid document. Our Positioning to Win™ Workshop helps your team identify your customer's key issues. From this we identify how you can build towards a trusting relationship and help you become their first choice.

 

Crafting a compelling bid stage

00

Crafting a compelling bid

Outstanding proposals, presentations and bids to close the deal.

End to end support
Our streamlined submission development process sees us work with you to identify opportunities to bid for and to plan, write and design expertly crafted documents. We help you demonstrate understanding of the buyer's needs and challenges and showcase what sets you apart - all within a comprehensive, conforming and compelling proposal.  
Expertise to give you the edge
Our team brings expertise in procurement and industries spanning roading and rail, energy, power, transport, telecommunications and more. This gives you the edge in complex bids—and content you can use in future.

From promise to high performance stage

00

From promise to high performance

Winning the work is only the start. Delivering a major contract successfully requires a seamless transition from sign-off to set-up—often within tight timeframes and with limited resources. Height has the expertise to support you through a successful mobilisation, to set you up for success.  

Developing the relationships and implementing systems for success
With experience in mobilising complex projects efficiently, we help you develop collaborative working relationships with your customer and teams, on-board your people and de-risk your project so you exceed expectations.
We assist with the development of management plans and other required documentation to support efficient mobilisation and exceptional delivery outcomes. 

Delivering a successful project stage

00

Delivering a successful project

How can you build strong customer relationships that maximise your opportunities for high-margin work?

Maximising outcomes through exceptional delivery
We partner with your team through project delivery and beyond, so you can delight your customer and improve performance without compromising on day-to-day service. Our customised support includes establishing clear business strategies and processes, translating goals into everyday actions, innovating technical and delivery processes, and building a solid track record to help you win future work.
Get in contact
Let's work together to create your bid strategy.